You will need to sign up to online services before you can book appointments or order prescriptions online - You can do this by contacting us on 02380 282689
Appointments System
We are now making on the day bookable telephone and face to face appointments.
If you have a usual GP, or are booking a follow-up appointment, please try to book with the same GP.
Appointments can be made online if you have signed up to online services, or by phoning reception. If you phone reception you will be offered an appointment. If you feel your problem is more urgent than this, please let the receptionist know and you will be given the options of being added to the duty list or completing an econsult.
You may be asked to send in a digital image. Please read the attached protocol for further information.
Face to Face Appointments
We wish to assure you we are taking all necessary precautions in order to keep our staff and patients safe.
PLEASE PROVIDE YOUR OWN FACE MASK WHEREVER POSSIBLE.
E-consult
This is an online consultation platform which gives you the options of finding advice to help yourself, requesting the surgery's assistance with administrative problems (such as sick notes or referrals) or asking for advice/treatment for a medical problem. This also gives the option of securely uploading photos for review.
We aim to provide a response within 2 working days of these being submitted.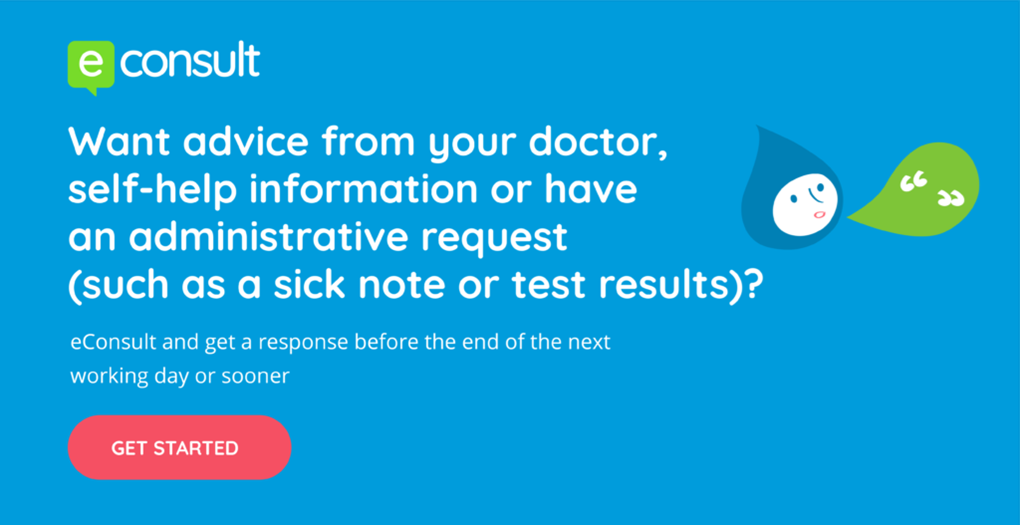 Late Arrivals
If you think you are going to be late for an appointment please contact the surgery as soon as possible to advise us.
Patients who arrive within 15 minutes of their booked appointment will be seen at the doctor or nurses discretion.
If you are more than 15 minutes late we will need to re-book your appointment.
Home Visits
Patients that are housebound may request a home visit if you become unwell. This may be undertaken by a GP from the practice, a visiting GP or the frailty support team depending on the presenting problem and availability.
Cancellations & Reminders
Cancel an Appointment
It is important that you inform the reception staff if you are unable to attend your appointment, this will allow that appointment to be offered to another patient. If you fail to notify the Practice that you are unable to attend, you will be sent a letter informing you that you have defaulted from your appointment. Persistent defaulters maybe removed from the list.
You can also complete our appointment cancellation notification request form. This can only be used if your appointment has been arranged for more than 24 hours in advance. (excluding weekends and public holidays). You can also text to cancel your appointment.
Text Reminder Service
We have a texting service which allows you to receive confirmation and reminders about your appointments.
To have this service you will need to register by completing a consent form.
Please remember to update your contact details with us when you change address, telephone numbers and email address.
Extended Hours - Appointments +
This is an appointment service which is available by contacting us at Lyndhurst Surgery. The service is open Monday - Friday 18:30 – 22:00 and on Saturdays and Sundays from 08:00 – 22:00.
There are also appointments at Ringwood Medical Centre, Romsey, Testvale Surgery and in Winchester at Badger Farm.
You will be able to see a GP, an Advanced Nurse Practitioner, a Practice Nurse, a Healthcare Assistant and a physio. There is also a Mental Health Service available.
If you wish to cancel an appointment you can ring a central booking hub on 0333 321 8834. They are not able to MAKE appointments.
If you see a Healthcare Professional at the above they will have access to your clinical records. If you have opted to dissent from this we will need to amend that here at Lyndhurst, before your appointment.
This service has replaced The Practice at Lymington.
Lymington Urgent Treatment Centre
If you have sustained a minor injury which is no older than two weeks you can walk in between the hours of 08:00 and 21:00
OR
You have a newly presenting minor illness which requires urgent attention that you have been unable to see your GP about, then you can walk in between the hours of 08:00 and 21:00.
This service has replaced the Minor Injuries Unit at Lymington.
For more information click here
Phlebotomy (Blood Taking)
We offer a blood taking service here at the surgery.
Lymington & Romsey hospitals also offer blood test appointments and are unable to accept walk in patients. To book a blood test at Lymington, Southampton, or Romsey hospital, please call 02381 204877.
How to access online patient services
What is patient online access?
Patient Access connects you to local health services when you need them most.
Book or cancel GP and Nurse appointments online
Order repeat prescriptions
Look at your medication, allergies and immunisations
Discover local health services for you or your family via your mobile or home computer.
You will be able to do this on a website, or an app, using a computer, a tablet or smartphone.
If you would like to register for online access, please call the surgery on 02380 282689.
Detailed access to your record
Once you are signed up to patient access, you have the option to request detailed access to your record. You will be able to see the following information online:
Test results
Problems
Documents
To request this, call us on 02380 282689 and ask for a 'detailed access request form', you will then need to drop the form into the surgery with photo identification.
Please allow 14 days for your request to be processed.
Proxy access
Proxy access allows a parent, relative or carer to manage online services on behalf of another patient.
There are 3 age groups which need different forms completing:
Children 0-10 - Parent/Guardian/Carer can complete the form and return to the surgery
Children 11-15 - The child can opt for having their own access (but must have their own mobile number and email address), the child can opt of their parent/guardian/carer to have access or the child can opt of both to have access.
Adults 16+
The form needs completing with all parties having signed (except the first group).
To request any of these forms, please contact reception on 02380 282689.
NHS App
To use the NHS App you must be aged 13 or over and registered with a GP surgery in England.
Use the NHS App to:
Get your NHS COVID Pass
Get advice about coronavirus
Order repeat prescriptions
Book appointments
Get health advice
View your health record
Register your organ donation decision
Find out how the NHS uses your data
View your NHS number
You can access your NHS covid pass without having to sign up to patient access, but to access everything else as mentioned above, you will need to sign up to patient access first. You can do this by contacting reception on 02380 282689.